Balearic Sheerwater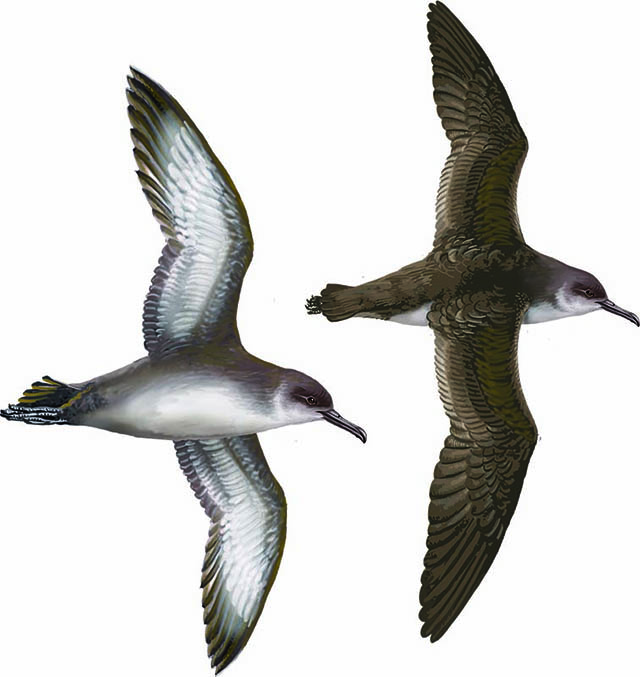 Scientific Name: Puffinus mauretanicus
Description: is a small Shearwater, with about of 33 cm in length and with 85-90 cm wingspan. The back is greyish-brown while the belly is brownish dirty white, with little contrast between the dark and the light on the sides, head and chest. There is some variation in plumage tone of this species, and can go from almost completely dark, similar to a Sooty Shearwater Puffinus griseus (although this is larger), the plumes are similar to a dark shearwater Puffinus puffinus, but never showing the black and white pattern.
Biology: it nests in crevices in cliffs and small islands in the Balearic archipelago, putting an egg in each breeding season. It does not reproduce until the third year. Reproduction occurs mostly between February and June. It feeds on small pelagic fish that move in shoals in the water column of the continental shelf. Is a diver species often associates the dolphins and tunas, in pursuit of prey. Sometimes they feed of the rejections of the fishing boats, especially during the reproductive season.
Distribution: It is distributed on the Western Mediterranean at the time of breeding, migrating to the Bay of Biscay in winter. Is one of the Procellariiformes which is easy to be found in along the Portuguese coast, often near the coast. This species is more common outside the breeding season, between June and October. The Portuguese coast is one of the most important locations worldwide for the wintering grounds of this species, with large concentrations in marine shallow cable and IBAs (Important Bird Areas) of Figueira da Foz.